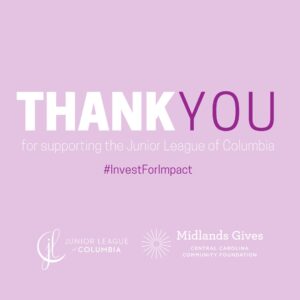 Midlands Gives 2023 was a huge success for the JLC.  This is hosted by Central Carolina Community Foundation, Midlands Gives is a year-round platform and an annual 18-hour online giving event that brings the region together as one community, raising money and awareness for local nonprofits in 11 Midlands counties.
As an organization, we had not actively participated in this event for several years. In years past, when we did, we utilized ads and other paid means of promotion to solicit donations. This year, we did not use any advertising funds, and relied strictly on social media, e-blasts, websites, and old-fashioned 1:1 contact via word-of-mouth to engage donors. Through these efforts, we were able to raise $3092.25, from 47 unique named donors and 5 anonymous donors. Although we slightly missed our target of $5000, we were immensely proud of the level of engagement we had this year. This year raised the most individual donations ever in the history of our participation. We believe this is a strong start to what will be a continued fundraising effort for JL Columbia.
Keep an eye out for our other main fundraising efforts Holiday Market in November/December, Little Black Dress Initiative in the fall, and then Midlands Gives next spring (first Tuesday in May).