JLC HONORED BY SALVATION ARMY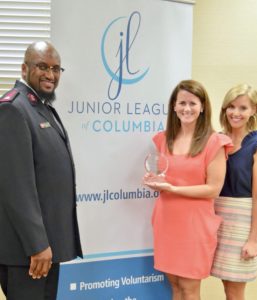 On May 21, the Salvation Army of the Midlands presented the Junior League of Columbia with its "Doing the Most Good" award for volunteer support of Salvation Army programs, most notably the Christmas Warehouse.
This week is National Salvation Army Week. According to Area Commander Henry Morris, it is a week "that serves as an opportunity to celebrate our volunteers, donors and program beneficiaries who have enabled us to serve in the United States for 135 years."
In addition to the League's efforts, the following League members serve on the Salvation Army Advisory Board: Charlotte Berry, Denise Hudson, Mary Beth Campbell, Kristen Beckham and Emily Bedenbaugh.
Pictured above:
Major Henry Morris, Salvation Army
Misty Burton, President-Elect, Junior League of Columbia
Emily Bedenbaugh, Community Research & Project Development Chair