Done In A Day (DAID) Fall 2022 Recap and Upcoming Events
In September, the Junior League of Columbia (JLC) teamed up with the 9/11 Remembrance Foundation of South Carolina to help support the Tunnel to Towers 5k.  We were able to assist with packet pick-up and t-shirt distribution, manning water points and sign maintenance on the course during the race, and help with the afterparty provided for the runners.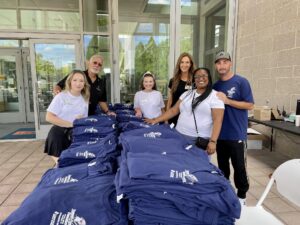 In October we had two events!  We first assisted the Suzuki Academy of Columbia and USC Fall Festival.  The Suzuki Academy of Columbia provides musical instrument instruction to students ages three and older on the violin, viola, cello, and classical guitar using the philosophies and methods of Dr. Shinichi Suzuki.  This festival helped to raise money for their tuition assistance fund.
The next October event was we assisted PITCH, Inc., with their Midlands Community Fridge.  PITCH is "Positively Influencing The Community with Heart".  PITCH works to help alleviate hardships of homelessness, poverty, and good insecurities in the community.  The Midlands Community Fridge Pop-up Shop is a large-scale event that takes place once or twice a month. It is a faux flea market set up with produce directly from the Farmer's Market where 60 to 75 seniors and their families can come and shop for free.
In November, we are looking forward to supporting the Midlands Community Fridge with PITCH, Inc. again along with the Vista Lights presented by Prisma Health. We will be assisting Santa and helping him meet the children attending.
Our last event in 2022 will be helping the Salvation Army of the Midlands with their Christmas Warehouse.  We will help them assemble gift bags to help fulfill the wishes of local children who would otherwise not have gifts for Christmas. It is expected that this project will impact over 2500 children across the Midlands.