A Message From Our League President, Emily Bedenbaugh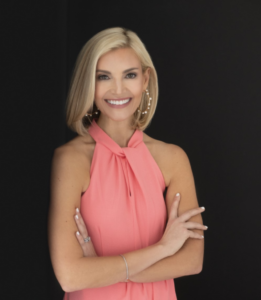 For 100 years, the Junior League of Columbia, has been working to advance women's leadership for meaningful community impact through volunteer action, collaboration, and training in the Midlands.
It all started in 1924 with one visionary woman, Katharine Manning, who wanted to make a difference in her community. She recruited other women with the same passion and joined forces to create positive change. In this spirit, the Junior League of Columbia has remained relevant and critical throughout the decades identifying and responding to our community's needs while training volunteer leaders. 
Similar to Katharine Manning, I'm also a native of Columbia and grew up knowing about the important work that the women of the Junior League were doing to make a difference in our community. HQ on Devine Street always seemed like a special space to me and I would note the buzz of activity whenever we passed by. Like so many of you, finding ways to give back was instilled in me during childhood – my mother especially encouraged me to get involved with service and there was always an avenue- through school and later college, so after moving back to Columbia and getting established as a young professional, I quickly sought out The Junior League to help me plug back into my hometown in a new way and make some new, meaningful connections.
For the last 15 years, I've had the privilege of being a member and serving with and learning from so many amazing women. Throughout the ups and downs of life, the League has been a constant, filling my cup and providing a supportive network where we can serve others and grow as leaders. From chairing new community committees like Kids in the Kitchen, to helping to rebrand the league as communications vp, to giving a voice to our members through public affairs, leading new fundraisers like Little Black Dress, representing the voice of members as at large director, serving on our board and management team and working on the league's latest DEIB initiatives – all of these experiences helped me to develop skills, make lasting friendships and learn more about the issues facing our community. The training garnered through the League often translates to community leadership, and I am proud to serve on a variety of local boards to improve our community. I find it especially meaningful to now be raising two daughters who are well acquainted with the League and just as I took note also enthusiastically point out HQ every time we drive by- "that's where we go to help people."

As we embark on our centennial anniversary during the 2023-2024 League year, we honor our past 100 years of lasting leadership, and the extraordinary members who have built a legacy throughout the decades that we are all so proud to uphold. We also celebrate the present impact of our current members, who make a choice to give their most valuable resources, time and energy, to advance the League's mission, which is more significant now than ever before in this post-pandemic landscape. And we look towards the future legacy of our League refocusing and redefining our community impact while strengthening our advocacy voice and ensuring a purposeful and enriching experience for our members.
It's been a century of bringing together women who share a passion for community, believing in a greater good and collaborating with community partners to make change. We can only imagine the pride that Mrs. Manning would feel understanding the lasting reach of her vision. Together we can further our mission and impact. In the words of Junior League founder, Mary Harriman, "We have the responsibility to act, and we have the opportunity to conscientiously act to affect the environment about us."