New Member Spotlight- Selena Dennis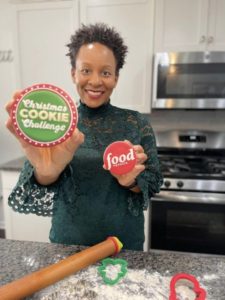 The Junior League is made up of all different types of women from all backgrounds and occupations.  In fact, we have one of our very own new members who runs a bakery that will compete in Season 6 of the Christmas Cookie Challenge on Food Network!  Her episode is on November 6 at 8 p.m.
We were able to catch up with Selena and ask a few questions before her episode:
I looked at your website for your business Embellished Dough (love it by the way!) and saw you got started with custom sugar cookies because of your church's prison ministry.  Can you tell me a little about that? I've always wanted to learn how to make custom sugar cookies. I'm a creative and I love sweets and I figured this would be a great way for me to merge the two. My church's prison ministry asked members to provide cookies for the prison. I thought this was a great opportunity for me to take the plunge and learn how to make sugar cookies. I had been eyeing an online course for $29 and decided to finally purchase the course. I used that course to learn how to make sugar cookies and icing. I purchased other books and watched lots of videos to learn all I could. The prison ended up having a lockdown and put a hold on visits so I never ended up making the cookies for the prison ministry. I ended up posting some of my cookie creations on Facebook, which I didn't think were all that great. A friend asked me to make some bowling cookies for your daughter's birthday. I was just starting out so I didn't have many cookie cutters. My husband researched on YouTube how to make a cookie cutter out of wire and made me a bowling pin cutter, which I still have today. My intention was to never start a business. It didn't become a thought until after that first order. My husband came up with the name and Embellished Dough was born in June of 2018.
How did you become interested in the JLC? It seems you like to make a difference in your community! Yes, I became interested in JLC because I wanted to make an impact on my community by serving and making an impact with my time and talents. I believe it's important to give back to the community and JLC does an amazing job with that.
How did you get selected for the show? Did you have to submit a video or bake cookies that were selected by judges? The funny thing is a talent scout reached out to me in 2021 to participate that year for the show. I went through the first interview and talked myself out of moving forward. I looked at some of the shows in between the first interview and what would have been the second and said there's no way I'm ready for that. I didn't even tell my husband about it until after I had passed on the opportunity. Fast forward to this year when someone else reached out to me and I decided to go for it. I had a few interviews and I also had to submit cookies for one of the interviews. I will say during that process the self-doubt crept in but I pushed through and was ultimately selected for the show. During one of the first interviews, they asked if I was married and if my husband would be interested in being on the show. He was all in with no hesitation. I think having him by my side set me at ease.
For those that do not watch the show, can you tell me about the premise of the show? The Christmas Cookie Challenge is a sugar cookie decorating competition, where 4-5 talented cookie makers compete for the title of Christmas Cookie Champion and $10,000.
Tell us about your experience on the show.  Are you going to have a watch party? My experience on the show was AMAZING! I can't say enough about the crew as well as the other competitors. I am a control freak but I was able to have fun and take it all in while I was standing in the workshop. The icing on the cookie was having Antavis alongside me. That definitely helped with my nerves. Yes, we are planning to have a watch party at The Windermere Club in Blythewood where Chef Bilani will be providing light appetizers and desserts by Embellished Dough. It will take place November 6 from 6:30-9 p.m. and all are invited!!
She was also featured on Soda City Live this past week, catch that clip here.
If you, too, are looking for a way to make an impact on our Midlands community, please know our new member applications are now open!  No cookie-making skills are required!  Click here to learn more about membership!