More Than A Marketplace: Rania's Special Holiday Market Tradition
Back and better than ever, this year's Holiday Market is guaranteed to be a treat for first-timers and old friends. Holiday Market, an event which welcomes thousands of shoppers from around the Midlands each year, is the Junior League of Columbia's largest fundraiser. In 2019, the event which annually features nearly 200 vendors raised more than $287,821 to support the League's mission and programs.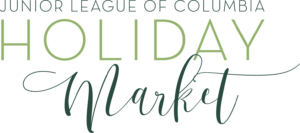 Last year, in an abundance of caution during the COVID-19 pandemic, the JLC made the tough decision to cancel Holiday Market. With the return of the event this year, the League is abuzz with excitement from members who are looking forward to volunteering during the event, shopping for the perfect gifts, and enjoying good cheer and togetherness once again.

For JLC President-Elect, Rania Jamison, the return of Holiday Market also means the return of a special tradition which leans into the lineage and the legacy of a woman who inspired her to become the bold community-minded leader she is today – Grandma Fannie.

"I'm a grandma's girl," said Jamison. "I was raised in my grandmother's house. [We were] thick as thieves. She had 21 grandchildren, but everyone knows I'm number one," Rania exclaims with a beaming smile while remembering her grandmother.
Fannie Graham was born in Timmonsville, South Carolina and completed her grade school education early at the age of 16. Eager to continue her educational pursuits, a young Graham attempted to attend South Carolina State University, but was unable to enroll because she was too young.

Determined to create a life she could love, Graham moved to Philadelphia where her mother had already relocated. Within a week of becoming a new resident in the City of Brotherly Love, Graham met Peter, Rania's future grandfather, who exclaimed right away, he'd met his wife. "And, well … you know, the rest was history," Jamison chuckles as she shares the story.

Together, the couple built a loving home with eight kids, but the family lost Peter when the youngest child was only six years old, and Frannie became a widow.

Graham, a hard working woman raising a large family in West Philadelphia was "so proud of who she was and what she did," a trait Jamison gratefully inherited from her beloved grandmother. Graham was a regal and admired woman who had a deep appreciation for nice things, but she was not removed from the harsh realities created by a segregated society – ways of thinking and being that her granddaughter now works to challenge and change within the League and in the larger community.

"The reality is my grandmother would have never been invited to join the League although she possessed many of the characteristics we seek," Jamison says. "She was very worldly, very sophisticated, very loving, very giving, very gifted, but she was a woman in a time when the League would not have accepted her." Jamison describes her involvement in the League and her accomplishments as a reflection of the love and support she received from Grandma Fannie and a way to "bring her" into spaces she never saw herself. This is especially true during Holiday Market.
"Every year I go to Holiday Market, I have my Grandma Fannie moment. The one thing of hers I have in my possession is a mink coat. Her floor length mink coat," Rania proudly shares that she dons the mink coat every year in celebration of the family matriarch's life and legacy. "I get mad when it's too hot during Holiday Market because I'm going to bust out my mink coat anyway," she jokes.

Graham passed away the year after Rania's college graduation, where she was in attendance and the loudest and proudest that day. Wearing the mink coat during Holiday Market is one of the ways Jamison gets to show Grandma Frannie that she is just as proud of her.

"I know we are not our grandmothers' Junior League, but I'm so glad the work we do would make our grandmothers proud," Jamison says of the many external projects and internal organizational improvements the league has made and is continuing to do, work that is supported by funds raised during Holiday Market.

This year's Holiday Market kicks off December 1st and ends December 5th . After breaking with the Holiday Market tradition because of the COVID-19 pandemic, the League is planning to celebrate the season with even more cheer this year by hosting its inaugural Holiday Ball. All events are held at the Cantey and Goodman Buildings at the South Carolina State Fairgrounds, located at 1200 Rosewood Drive, Columbia, SC 29201.

Midlands friends are encouraged to join the League at Holiday Market, celebrate the season with a community of cheerful givers, support small businesses, and maybe start a tradition of your own. You may even spot Jamison in Grandma Fannie's fabulous mink coat! More information, including how to purchase tickets, can be found here.

Check out the events being offered during this year's Holiday Market. Be sure to purchase tickets for shopping and for the Holiday Ball:

Wednesday, Dec. 1, 2021
General Membership Meeting & Junior League of Columbia Member Shopping Event
Thursday, Dec. 2, 2021
9:30 a.m. to 5 p.m. – Market (General Admission)
6 p.m. to 10 p.m. – Ladies Night Out
Friday, Dec. 3, 2021
9:30 a.m. to 5 p.m. – Market (General Admission)
6:30 p.m. to 11 p.m. – Inaugural Holiday Ball
Saturday, Dec. 4, 2021
9:30 a.m. to 6 p.m. – Market (General Admission)
Sunday, Dec. 5, 2021
Noon to 5 p.m. – Market (General Admission)
Noon to 4 p.m. – Sundaes with Santa