Little Black Dress Initiative to Raise Funds + Awareness of Poverty in the Midlands
The Little Black Dress Initiative (LBDI) is a longstanding advocacy effort echoed by Junior League chapters across the country. With a mission to bring awareness to the devastating impacts of poverty on families in our communities, the campaign allows for all members to join in and make an impact. The Junior League of Columbia proudly participates each year and COVID-19 has set the stage for an opportunity to make a big impact in our community. LBDI Co-Chairs, Erika Lovegreen and Lauren Summers discuss the upcoming LBDI and share how members and the community at large can participate.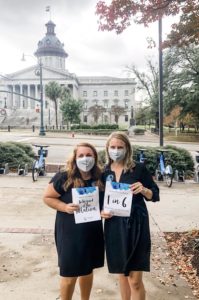 What is the Little Black Dress Initiative?
The Little Black Dress Initiative (LBDI) has traditionally been a poverty awareness and fundraising campaign that underscores the Junior League of Columbia's mission to end the cycle of poverty in the Midlands. 
With the backdrop of a global health crisis with COVID-19, this mission has never been more critical, impacting more lives than ever before as the numbers of those considered at the poverty level has drastically increased.
In an effort to illustrate how poverty can affect access to resources, confidence, and opportunities, we are  asking participants to wear a black dress (or suitable clothing) and a black mask when in public or on remote calls during the duration of the campaign.
This year's Little Black Dress Initiative will take place from March 22-26.  The theme will be Unmasking Poverty in the Midlands. 
How can community members get involved?
Community members can get involved by either donating directly to a participant in the campaign or they can choose to join the initiative themselves. Participants will have either a mask or button to help initiate dialogue to raise awareness about women impacted by poverty in the Midlands. 
Can you share any memorable outcomes or achievements from years past? 
The first-ever 2019 campaign set a fundraising goal of $25,000. Over one hundred JLC members participated and generated 1,396 gifts totaling $59,750.69, far exceeding the campaign goal.
Unfortunately, the 2020 initiative was cancelled in March as the JLC's focus shifted to Covid-19.
The 2021 goal for the Little Black Dress Initiative is $25,000.
More information:
For those interested in participating, sign-ups will begin in January and run through March 5. Official sign up information will be available on the Junior League of Columbia's website.
"Every dollar raised will support the Junior League of Columbia's mission-focused initiatives and commitment to supporting basic needs for local women and families," said Erika Lovegreen and Lauren Summers, Co-Chairs of the LBD Initiative. "We hope to help bring awareness to the critical needs of those in our community that continue to grow under the extreme, unprecedented conditions of the Covid-19 pandemic."