When you join the Junior League you not only get the opportunity to make a difference in your community. You also get the opportunity to meet a special group of women. And within that special group of women you can find a tribe with our affinity groups.  You want to know more about the affinity groups?  We caught up with Kara Simmons and Whitney Williams, our affinity group chair and vice-chair, and got to know them a little better and get more details on these groups!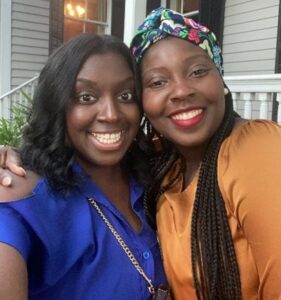 Kara Simmons, chair, has been in the league for 6 years.  She was introduced and invited to the league by one of her mentors, Junior League Past President, Carla Moore.  Carla shared the vision and mission with her and she knew she wanted to be a part of the impact JLC was making in the Midlands.
Whitney Williams, vice-chair, is a first active year in the League.  She became interested in the league to have a seat at the table with an organization providing resources in underserved communities.
So, how did the Affinity Groups start?  "Affinity Groups are aligned with AJLI.  During the pandemic we introduced these special interest groups to JLC and expanded the initiative this year to offer 4 affinity Groups we believed represented the underrepresented groups in JLC. "
How many Affinity Groups are there in the League?
"There are 4 Affinity Groups:
Special Needs Caregivers
Women of Color
Active Duty, Veterans, and Military Spouses
LGBTQIA+
Then we have special interest groups to include:
Foodies
Ladies of Lexington
Bravo Enthusiasts
Book Club"
How often do these groups meet?
"The groups are run by the members who are in them and it is really up to each group to how often they meet and what activities are planned."
What are some fun activities the groups have done/will do?
"The Women of Color met up after the first general membership meeting to have drinks/food at Cantina76 and have plans to meet up at a restaurant again soon!  Active duty, Veterans, and Military Spouses got together as one of the in-home general membership meetings.
Do you attend an Affinity Group?  If so, which one?
"Yes, I have been active in the Women of Color Affinity Group.  As a first year active, it has allowed me to connect with and build relationships with women much faster and more organically than if I weren't involved in the affinity group."
If you had to tell people one things about Affinity Groups, what would it be?
"I would tell them if they are looking for a "tribe" within The League, then connect with one of the Special Interest Groups or identify with one of the Affinity Groups to join and begin building friendships."