Holiday Market From Home: Support Small Businesses
The Junior League of Columbia's largest fundraising event, Holiday Market, has been canceled this year, as a safety measure in response to the current COVID-19 pandemic. The event, which welcomes nearly 170 vendors to the state fairgrounds each year, is not only a major source of funding for the meaningful community work done by The Junior League of Columbia ($275,000 raised in 2018), but it has traditionally been an opportunity for community members to support small businesses and for businesses to showcase their products and draw revenue from the widely popular event.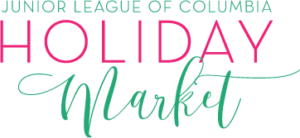 Each year, the event's success is the result of the hard work and dedication of the league's Holiday Market committee. Members of the committee look forward to the hustle and bustle of the market each year. About previous years, Ferris deTreville, the committee's co-chair says, "I love spending the week with our committee. We have a great team and it is so fun to be able to see everyone's hard work come together and pay off. Obviously, I love the shopping as well!" Luckily, for shoppers like Ferris, there are opportunities to shop with Holiday Market vendors locally and online.

Ferris, like many other small business enthusiasts, will be doing her part to support local merchants in spite of the canceled event. She says, "I'll be shopping local! We have a ton of great local merchants that are open for in person shopping." Support for small businesses is especially important as many struggle to adapt to challenges posed by the pandemic. A September Forbes article cited 100,000 small businesses remaining permanently closed after temporarily closing because of COVID-19. The Junior League of Columbia is encouraging everyone to support its vendors this holiday season.

Holiday Market vendors' product offerings include home goods, food, clothes, accessories, and more. The long list of merchants provides shoppers with options for family, friends, and work colleagues. While the annual event has been cancelled out of care and concern from members of the league and the community, the vital role small businesses play in our local communities and economy remains and the importance of supporting them persists.

Here are three ways you can support Holiday Market vendors:

Buy! VIsit the Junior League of Columbia website for 2020 Merchant Shopping Guide, to purchase gifts and other items this holiday season.
Follow, Like, and Share! Follow your favorite Holiday Market vendors (or all of them!) on social media. Be sure to share reviews about the products you love and encourage your friends and family to shop, too!
Text a Friend! A simple text message to a close friend or family member to encourage support of the Holiday Market vendors could go a long way. Try sending, "Hey! Have you seen the Junior League's 2020 Merchant Shopping Guide? There are so many great vendors listed with convenient shopping options!"

This year, we have witnessed people and communities exercise remarkable flexibility and resilience in order to ensure the well-being and safety of their families, neighbors, friends, and world. Like many of the ways we connect, collaborate, and are in community with each other, Holiday Market looks a little different this year, but the spirit of community and goodwill which drives the event every year is still merry and bright.