From Exclusion to Inclusion: Not My Grandma's Junior League
Contributed by Lisa Cole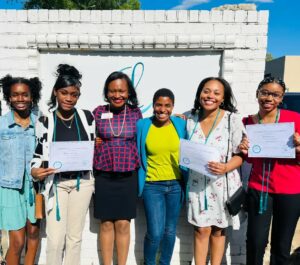 The Junior League of Columbia (JLC) has pivoted a lot since its 1924 founding. From a small, elite social group to a collaborative, leadership-focused entity, the JLC has steadily adapted to the needs of the Midlands over time. But, perhaps its most impactful shift is its evolution from exclusion to inclusion.
Originally an upper-class social group, the Junior League was exclusive and drawn from the referral networks of affluent white women. Consequently, many black women who were also passionate about community service were overlooked for decades. Frannie Bennett Graham would have been one such lady back then to be excluded from JLC's member ranks. Graham lived at a time when black women faced limited opportunities and countless challenges not only due to their gender but the color of their skin as well. Despite this, she was a sharp, debonair woman of great strength and resilience. She worked tirelessly for her family, and in doing so instilled a deep sense of pride and determination in her beloved granddaughter.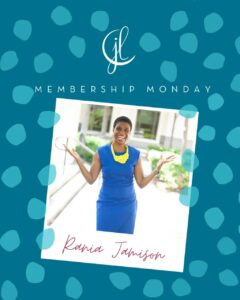 You know that granddaughter best as Rania Jamison, the first black president of the Junior League of Columbia. Jamison's historic presidency, just shy of the JLC centennial, comes 21 years after Deborah Brittain served as the first black president of the Association of Junior Leagues International (AJLI) during their own Centennial year. Just like Brittain's historic presidency shattered barriers and opened doors for countless women who once felt they could never hold such a position, Jamison has done the same locally here in Columbia, South Carolina.
Jamison, a JLC member since 2013, is committed to breaking down barriers and promoting equality. When asked what drew her to the league, she revealed a friend had told her to join. "I came for the relationship but stayed for the impact," she said with a smile. Her placement paths reflect this sentiment and include Education & Development Chair, At-Large Director, and VP of Membership.
One of Jamison's more notable impacts was her voice in the launch of the JLC's Diversity, Equity, Inclusion and Belonging (DEIB) Task Force in the late 2010s. This task force conducted a comprehensive review of policies and practices, driving change that would lower barriers and reframe the way Midlands residents joined the league. But Jamison didn't stop there. Thanks to her influence, a number of other initiatives have been launched, too. For example, she was the first JLC member to learn and then host the Poverty Simulation, a community training curriculum that teaches participants how it feels to navigate social systems while experiencing job loss, trauma, homelessness, or food insecurity.
In 2021, Jamison stepped into the role of President-Elect, then finally accepted the gavel of President in Summer 2022 from Sallie Harrell, just as a post-COVID world emerged. Her positive spirit has since helped to reignite the JLC as a force for positive change. Jamison has inspired new members to join, motivated current members to reengage fully, and encouraged all to make a difference in the lives of others.
Jamison recently reflected on the impact made during her presidential year. In addition to the revival of the seven-league Palmetto Coalition, she noted that she was particularly proud of the league's continued work to promote DEIB as this ensures the organization remains reflective of the community it serves. Looking ahead, Jamison expressed optimism about the future as well. She is confident that the league will continue to lead the Midlands in community service and social justice initiatives. She encourages all members to remain committed to advancing women's leadership for meaningful community impact and notes that such values are more important than ever.
Jamison's Grandma, Frannie Graham, left a legacy attesting to the resilience of black women in the face of adversity. While Graham may not have been able to join the old Junior League of Columbia, her granddaughter's historic tenure stands as a symbol of progress and hope for womankind. Like her beloved grandmother, Jamison too leaves behind a legacy of strength, poise, leadership and service. Her commitment to social justice and equality was not just a political or professional stance, but a deeply personal one. Jamison's own experiences as a black woman had shown her the ways in which systemic inequality impacts individuals and communities. She remains determined to use her visibility to make a positive difference.
The tale of these two strong ladies serves as a powerful reminder that one person can impact not just children and grandchildren, but the broader world in which we live and love each day.
About Lisa
Lisa Cole is a former book publisher and current interim executive director of Turning Pages SC, the state's oldest adult literacy council. She volunteers for many organizations but especially loves the collective impact she sees within the Junior League of Columbia where she's been a member for 8 years.