Exciting times at Camp Cole!
Camp Cole, named in loving memory of Cole Sawyer, has officially broken ground and is looking forward to all that is to come for this special place outside of Columbia. The camp will cater to children living with critical illnesses and allows them to experience the carefree, happy-go-lucky days of camp while receiving quality care and access to medical attention. Therapeutic horseback riding, water activities and good times will all be found on the 40 acre farm along with the support and love of a dedicated staff. With a mission to be a "place where others can shine," community members are sure to find a way to support this growing gem!
Founders Margaret Deans Grantz and Kelsey Sawyer Carter share a passion for serving others as well as a heart for supporting cancer patients. The duo has worked tirelessly to bring the dream of Camp Cole to fruition and recently celebrated their groundbreaking on June 17. In just one year, the camp will open it's doors to hundreds of campers for signature programming and the opportunity to create wonderful memories.
When asked about the momentous occasion Margaret Deans shared: "the moment is really the culmination of two years of hard work and a significant milestone in our journey." Camp Cole's campus map (below) highlights the amenities that will help to make the space an accessible and memorable experience for all campers. Camp Cole is a member of the American Camp Association and will pursue accreditation in 2022. With the excitement of the opening season mounting, supporters can follow the progress and completion via the virtual tour option on their website.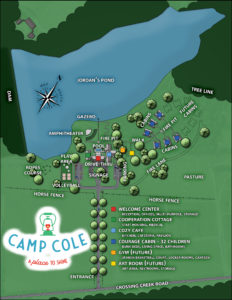 In May, the Junior League of Columbia announced Camp Cole as a 2020- 2021 Community Impact Grant recipient to receive funding to provide up to eight at-risk youth scholarships to participate in the therapeutic horseback riding program, Riding At-Risk. Margaret Deans, a member of JLC, shared that members can also get involved through volunteer opportunities listed on their website and updated regularly. In addition, members can follow, support and share their social media channels where Kelsey and Margaret Deans share monthly Coffee Chats answering questions and sharing organizational updates.
Learn more about Camp Cole at www.campcole.org