Everything you need to know about Junior League of Columbia's 33rd Annual Holiday Market!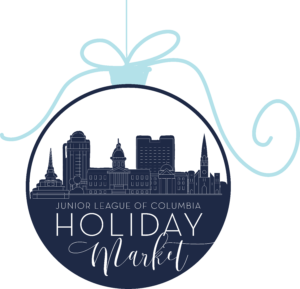 The JLC's 33rd Annual Holiday Market will take place Wednesday, Nov. 28 through Sunday, Dec. 2. This five-day shopping event will take place in the Cantey and Goodman Buildings at the South Carolina State Fairgrounds.
Holiday Market begins Nov. 28 with Preview Party, a black-tie optional event from 6:30 to 11 p.m. Tickets can be purchased at here or at the door of the event.
Holiday Market Hours
Thursday, Nov. 29 – 9:30 a.m. – 5 p.m.
Ladies Night Out – 6 p.m. (Tickets for Ladies Night Out are pre-sold only (not available at the door). A limited number of additional tickets will be available to purchase starting Nov. 15!)
Friday, Nov. 30 – 9:30 a.m. – 6 p.m.
Saturday, Dec. – 9:30 a.m. – 6 p.m.
Sunday, Dec. 2 – noon – 5 p.m.
Sundaes with Santa, a family-friendly event, will be held from noon to 4 p.m. Tickets can be purchased here, or at the door.
All general admission tickets can be purchased via the website or at the door when shoppers arrive. The State Fairgrounds will be charging a $5 parking fee each day Thursday through Sunday.
More than 160 merchants will attend the 2018 Holiday Market. The merchants come from across the country and have something for everyone on your shopping list!
An exciting, new part of Holiday Market is Market Mystery Money. Shoppers can pay $25 and receive $50 in gift cards to merchants at market. They will choose a category (women's clothing, children's clothing, home décor, etc.) and then receive 2, $25 gift cards. The gift cards must be used at Holiday Market 2018. These will be for sale beginning at Preview Party.
In 2017, Holiday Market raised nearly $250,000 and had 12,351 shoppers. The proceeds of Holiday Market are used to support the Junior League of Columbia's mission and programs, which includes strengthening the health and well-being of children and families in the Midlands.