End of the Year Celebration for the Junior Volunteers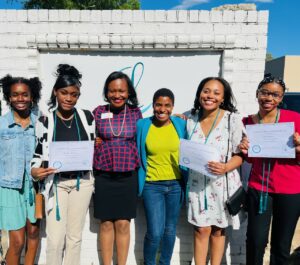 As the League year comes to an end, we are in celebration mode for our dedicated volunteers!  This is no different for our Junior Volunteers who had a busy League year.  The Junior League of Columbia has 66 junior volunteers this year and ten of those are graduating seniors.
The Junior League Junior Volunteers committee was able to keep these volunteers busy with volunteer shifts, development opportunities, and a chance to build a relationship with other Junior Volunteers.  This year they had a chance to:
Attend the kick-off party in September.
Volunteer to organize and sort diapers at the Power in Changing Diaper Bank (fall and spring).
Stuff Halloween candy bags for Epworth Children's Home.
Greet families at the ABC's of Healthy Children event (fall and spring).
Distribute snacks and waters to walker and runners at the Walk for Life event.
Attend a college and career panel about various careers such as STEM, Medicine, and Law from graduates and current college students.
Volunteer at the Camp Cole Halloween Pumpkin Palooza decorating the barn and distributing candy to families.
Attend a Friendsgiving.
Host a "motivation station" at the Girls on the Run run (fall and spring).
Collect Christmas gifts and food for families at the Salvation Army- Stuff A Bus event.
Collect tickets and greeting guests at the Junior League's Holiday Market.
Attend the Volunteers Holiday Party to celebrate the holiday season and do a pay it forward activity.
Attend a Junior League General Membership Meeting.
Attend a presentation on etiquette and confidence.
Cook and serve a meal for families at the Ronald McDonald House in Columbia.
Make and drop off handmade Valentine's Day cards and candy bags for Epworth Children's Home.
Help set up clothing racks and organizing dresses for the Cinderella Project Shopping Event.
Drop off non-perishable food donations for the CHIPP Program at Congaree Elementary School.
Attend a JLC Education and Development Event on College Admissions 101.
Help JLC Members who were volunteering to build a house with Habitat for Humanity Women's Build.
They completed their League year with a Junior Volunteers Ceremony celebrating all 66 Junior Volunteers receiving a certificate of completion and the ten graduating senior Junior Volunteers receiving a teal honor cord.
Congratulations for all their hard work this year and especially to the graduating Seniors:
Tayah Anderson
Payton Burch
Cara Collins
Makalyn Douglas
Aniyah Hodges
Makayla Holmes
Blair Kirkland
Elise Pringle
Haily Rhodes
Daria Slater