Beebe James epitomizes the values of the Junior League of Columbia through a life of service to others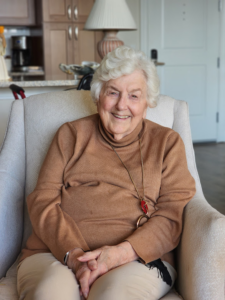 As past president of the Junior League of Columbia from 1975-1987, Beebe James loved making connections between League members during her years as an active member. When asked what her favorite part of being an active member was, she said, "EVERYTHING!" Beebe enjoyed the impact she made during the three-year progression from vice president to president to membership chair, but her favorite league position was placement.
Originally from Maryland, Beebe moved to Columbia as a new bride. She was older than most provisional members when she joined the League, so she took every opportunity to get involved with every opportunity that came her way. By doing this, she was able to serve as a resource and make lifelong friends through the League. In her favorite role as placement chair, she matched the talents of her fellow members and provided them with opportunities to shine in various roles. She mirrored this passion in her personal and professional life as well.
In November 2022, Beebe was recognized for her lifetime of service to better the lives of those in the Midlands by the Faith in Action Committee at Trinity Cathedral Church in Columbia. This award reflects her service within the church, her professional roles in non-profit organizations, and her involvement in the social good community.
When asked if she had any advice for new or active members, Beebe said that the best thing you can do is try everything you can – get involved with projects outside of your comfort zone and meet as many people as possible because you never know when you'll benefit from those relationships.