President Spotlight with Anna Edwards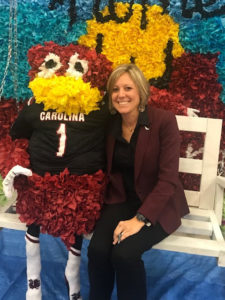 Meet our 2020-2021 League President, Anna Edwards! She has been in the Junior League of Columbia for 16 years and has served in a multitude of roles. We asked her a few questions to get to know her a little better and gain insight into what she envisions for us this year. Her theme for this year: #WeGotThis!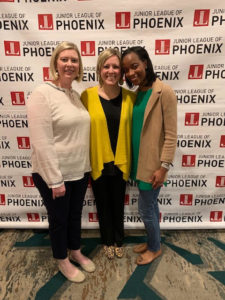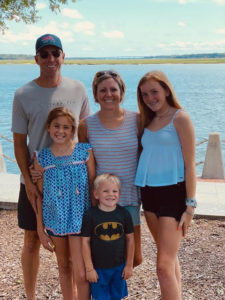 What are you most excited about for this League Year?
This is sure to be an exciting JLC year! Who knew that we would be leading during a global pandemic that would require that we rethink how we make our impact in our community in light of Covid-19. I am motivated by our membership and those individuals in leadership roles who are thinking creativity about how we fulfill our mission in Columbia and the Midlands. I am excited about the opportunities ahead of us in developing action steps and fulfilling our diversity, equity and inclusion commitment. We have made DEI work a priority over the last two years, and we are ready to take this commitment to a new level. I look forward to providing opportunities for our members to learn and grow, then apply what is learned to our organization and the many other ways our members serve our community.
If you had to pick one goal to accomplish for this year, what would it be?
Only one goal? If we could accomplish one goal for the year, it would be training and leadership development of our chairs/vice chairs. Our chairs and vice chairs are the ones who lead the many committees across JLC that make the magic happen. I want to make sure we are providing the right training and support for those women so that they continue to evolve their JLC leadership!
What was your most monumental moment or experience so far in the League?
I have been very fortunate to have had a wonderful experience in JLC. I have taken advantage of the predictable opportunities, and challenged myself to consider how I can refine and test my leadership skills. Perhaps the most impactful experience (prior to this year) was two years ago when I served as the second Executive Vice President. I had the opportunity to sit around the management table with incredible JLC leaders to develop operational plans and metrics that allowed us to think differently about how we did the work of the League across the four councils. I like challenges and opportunities for change – and that year was both…we were still adapting our organization in this new governance/management model and worked really hard as a team.
What advice do you have for women who want to grow in their leadership capabilities, especially in JLC? 
I have always advised members to stretch themselves, try new things and take all the opportunities to get to know as many members as you can! It is important that as our members grow as leaders they get out of their comfort zones and take advantage of the opportunities JLC has to offer. Over my 16 years in JLC, I have rarely said "no" to an opportunity. I would advise members to say yes to new opportunities, test your skills and abilities and expand your leadership capabilities by trying something completely new and different. We learn about ourselves in these situations, which makes us better all around!
Don't forget, #WeGotThis!