Each year, JLC partners with Richland One schools to host a cooking contest for the after school programs. Students submit healthy recipes and several are chosen for the student chefs to create for three local celebrity judges to taste and judge. Richland One's Student Nutrition Services also features the winning student's creation. Check out photos and a recap of this year's event!
---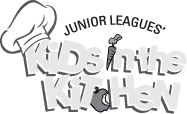 Children's health and wellness has been a key issue for Junior Leagues since our founding in 1901. Recognizing that obesity can impact a child's mental and physical health, with implications for their education, social lives, and ultimate success, the Junior Leagues' Kids in the Kitchen (KITK) program was born in 2006. Inspired by the Junior League of Calgary's Junior Chefs program, which began in 2001, the initiative is built to educate children and their families about nutrition and fitness via hands-on initiatives. Today, the program is active in over 200 communities in four countries.
The goal of the program is to empower youth to make healthy lifestyle choices by educating kids and their parents about the importance of nutrition and fitness. Junior Leagues work in myriad ways to achieve this goal, some of which include working with local chefs, community organizations, and nutritionists to provide cooking lessons and demonstrations to families, health fairs, etc.
KITK's website features healthy recipes as well as eating and fitness tips to encourage kids and their parents to learn the importance of eating healthy foods and involve them in the fight against childhood obesity.